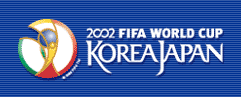 CHAMPIONS BRAZIL
BRA 2
GER 0
Brazil's team captain and defender Cafu hoists the World Cup trophy after Brazil won 2-0 against Germany in match 64 of the 2002 FIFA World Cup Korea Japan final 30 June, 2002 at the International Stadium Yokohama, Japan. Brazil has now won a record five World Cup titles.Brazil previously was a FIFA World Cup winner in 1958, 1962, 1970 and 1994.
3rd placed TURKS

Suprise packets, Turkey, finished a great World Cup tournament with a well deserved third place. Turkey were the closest team to beating champions Brazil, which they had to face twice throughout the tournament.
England beaten by the best

Brazil 2
England 1
In what was called the 'true final', Brazil qualified through to the semi finals with a 2-1 win over England. England took the lead early with a goal from Michael Owen, but Brazil then proved too good and hit back with two outstanding goals. With this win Brazil are the outright favourites to go on and win the World Cup, while England were so close to being in their position.
Korea shock the World

Korea rattled the tournament by knocking out cup contenders Portugal, Italy and now Spain. The game ended with a dramatic penalty shootout. Like the Italian game, the match stirred up many controversial decions by the officials. The Korean fans have been outstanding and deserve every bot of their teams performance.

italian despair

spain eliminated
IRELAND SHOOT OUT
Spain 1 (3)
Ireland 1 (2)
Ireland were knocked out of the second round of the World Cup in a nail biting penalty shootout with Spain. Holland, Kilbane and Connolly missed their penalties for Ireland which sent the Irish crashing out of the tournament.
Earlier in the game, Morientes scored in the 7th minute off a header and then Ian Harte missed a crucial penalty in the second half. But Ireland were given a lifeline when the referee awarded Ireland a penalty in the 90th minute. To Ian Harte's relief, Robbie Keane calmly converted from the spot to take the game into goden goal. Spain now face the winner of Italy and Korea in the Quarter Finals.
Host's with the most


Japan 1-0 Russia .Korea 1-1 USA
Korea 2-0 Poland .Japan 2-2 Belgium
Korea 1-0 Portugal .Japan 2-0 Tunisia

Korea and Japan have given their fans something to cheer about in their country's opening games of the tournament. Both teams have recorded their first ever World Cup wins and have both qualified through to the second round of the tournament.
Beckham's sweet revenge

England 1-0 Argentina

After 4 years of waiting, David Beckham repayed the Argentines by sinking a penalty past them to give England a much needed three points in the group of death. England only need a draw against Nigeria to progress, while Argentina must beat Sweden.
Brazil win in firey battle

Brazil 2-1 Turkey

Brazil showed some of its old form by beating Turkey 2-1 in the group opener. Turkey opened the scoring seconds before the break, but Ronaldo equalised not long after. 2 red cards followed for Turkey and then a controversial penalty which appeared to be outside the box. Rivaldo clamly converted thepenalty to give Brazil all three points.
African teams soar
Senegal 1-0 France
Cameroon 1-1 Ireland
Sth.Afr 2-2 Paraguay

World Cup champions, France, were defeated on the opening night of the tournament by World Cup debutants Senegal. France were unlucky to equalise hitting the woodwork twice.

In other games Cameroon were held to a 1-1 draw courtesy of a Matt Holland egualiser for Ireland. South Africa made an exciting comeback with Quinton Fortune scoring an important penalty to manage a draw with Paraguay.
The new Adidas FEVERNOVA World Cup ball and Adidas Predator Boots