CHINA

Team Profile


44 years of waiting finally come to an end
The long wait for their first ever appearance on the highest stage finals finally ended for China, when Bora Milutinovic steered the world's most populous nation to 2002 FIFA World Cup Korea/Japan. Chinese football had been waiting 44 years to make its mark on the global game and the appearance at next year's finals will be a step into the unknown.


Star Player


Fan Zhiyi
The People's Republic of China has qualified for the FIFA World Cup finals for the very first time, and one of their stars is 32-year-old veteran Fan Zhiyi.

JAPAN

Team Profile


Home advantage will help build on recent progress
In the past, the road to the FIFA World Cup finals for Japan has been littered with disappointment and near-misses, none more so than when they failed to qualify for USA 94 by conceding a last minute goal in their final match against Iraq, the draw costing them a place at their first-ever FIFA World Cup finals.


Star Player


Hidetoshi Nakata
This exceptional playmaker is without doubt one of the best footballers in Asia. In May 1998, Nakata known as "Hide" became the youngest player ever to be named Asian Footballer of the Year. But that only partly explains his special status in Asia.

KOREA REPUBLIC
Team Profile


Desperately seeking second round
Korea Republic's record at the FIFA World Cup is something of a mixture. While, with their five appearances at the finals (2002 will be their sixth, and an Asian record fifth in a row) they far outrank all other continental rivals, the Koreans have yet to make the move up to global level, failing to win a single game in any of their appearances.


Star Player


Seol Ki-Hyeon
In the 1970s and 1980s, Cha Bum-Keun became the first player from the Korean peninsula to make the grade in Europe. He is still a legend in his home country today, and his success paved the way for Korean professional footballers in Europe. Seol Ki-Hyeon is the latest player attempting to follow in the footsteps of Korea's Footballer of the Century.

SAUDI ARABIA

Team Profile


Pride of the Gulf
With five appearances in a row in the final of the Asian Cup since 1984, yielding a record-equalling three titles, Saudi Arabia have been the continent's leading light for the last 20 years. Qualifying for their third consecutive FIFA World Cup finals has cemented their position as the Persian Gulf's top football nation of recent years.


Star Player


Sami Al Jaber
At the age of 15, Sami Al Jaber was already being pursued by many of Saudi Arabia's top clubs. His decision to join leading outfit Al Hilal was rewarded in 1988 in his second season, when he finished top goalscorer of the club's youth championship-winning team

CAMEROON


Team Profile


New coach, new challenge
Cameroon's Indomitable Lions will be competing in the FIFA World Cup for the fifth time, a record for the African continent, and again go into the tournament with high hopes of being able to set new benchmarks for African soccer.


Star Player


Patrick Mboma
Patrick Mboma was born in Douala, Cameroon on 15 November, 1970, and emigrated to France with his family at the age of two. His football career began at Stade de l'Est in Paris, from where he switched to local rivals Paris St. Germain. However, PSG already had an exceptionally talented African player on their books Liberia's George Weah who completely overshadowed Mboma. His breakthrough did not come until the 1993-4 season, when PSG loaned him out to third division side Chateauroux. That season he scored 17 times in 29 games and was promptly recalled to Paris.

NIGERIA

Team Profile

Africa's great hope
Nigeria is Africa's most populous country and can boast more than 200 professional footballers scattered around the world, plying their trade across Europe, the Middle East, Asia and the Americas.

Star Player

Augustine Okocha
Augustine Okocha nicknamed "Jay-Jay" burst onto the international football scene in the autumn of 1992. The 19-year-old midfielder delighted the Eintracht Frankfurt fans with breathtaking dribbling, marvellous tricks and an incredibly cheeky style of play that often drove his opponents to distraction.

SENEGAL

Team Profile

Africa's new kids on the block
Senegal are the surprise package from Africa for the 2002 FIFA World Cup and the only one of the five African representatives who have never been to the finals before.

Star Player

Elhadji Diouf
To most peoples surprise, Senegal pipped favourites Morocco to the top spot in the African Group C qualifiers and in doing so earned a place at the 2002 FIFA World Cup Korea/Japan their very first finals berth.

SOUTH AFRICA
Team Profile

Back where they belong
South Africa will celebrate a decade back in the international fold in 2002 when they participate in the FIFA World Cup finals in Korea and Japan, after the end of their long period of isolation because of the country's apartheid policies.

Star Player

Shaun Bartlett
Not many professional footballers can count a former president and Nobel Peace Prize-winner among their wedding guests. However, South Africa's Shaun Bartlett had the great fortune of inviting Nelson Mandela to his marriage ceremony. The Charlton Athletic striker from the Cape of Good Hope is a friend of Mandela's granddaughter and still has fond memories of his very special guest.

TUNISIA
Team Profile

Build on club success at country level
Consistency has been the key to success in recent times for Tunisia as they head to their third appearance at the FIFA World Cup finals. In Argentina in 1978, they became the first African country to win a game on soccer's greatest stage by beating Mexico 3-1 in Rosario, setting a new milestone for the continent and injecting new confidence in African football.

Star Player

Adel Sellimi
As a child, Adel Sellimi dreamt of one day becoming a professional footballer. At the tender age of 10, he joined his first club, Africain de Tunis, and he stayed there for the next 14 years, making his dream come true, and picking up two Tunisian league titles and one Tunisia Cup along the way.

COSTA RICA

Team Profile


Rocky road to the finals
Although not recognised as a powerhouse in the CONCACAF confederation, Costa Rica is a proud football nation that has been in pure ecstasy since 5 September 2001. The "Ticos" as the football team is known, qualified for their second FIFA World Cup and first since 1990.


Star Player


Hernn Medford
Costa Rica's Hernn Evaristo Medford Bryan will turn 34 a week before the start of the 2002 FIFA World Cup Korea/Japan. Born in San Jos on May 23 1968, Medford is regarded quite simply as the symbol of Costa Rican football. Furthermore, he is a key component in the current first-choice starting eleven and a point of reference for the other players.

MEXICO

Team Profile


Lucky 13?
Mexico has long been the super-power of the CONCACAF federation. Their visit to Korea and Japan will mark their 13th qualification for a FIFA World Cup final, with nearest rivals the United States lagging behind on seven.


Star Player


Cuauhtmoc Blanco
A powerfully-built goalscorer with excellent shooting ability, Cuauhtmoc Blanco has become one of the key fixtures and unquestionable talismans of the Mexican national side, which will take part in its third consecutive FIFA World Cup next summer.

USA

Team Profile


Ambitious outsiders
After their last place finish in the 1998 FIFA World Cup, the United States needed an infusion of youth. The country turned to Manager Bruce Arena, the most successful coach in the US soccer. Arena has won everything from college to MLS titles and even earned a cap for the USA as a goalkeeper.


Star Player


Claudio Reyna
Claudio Reyna is without doubt one of the most talented footballers the United States has ever produced. Former U.S. national coach Bora Milutinovic says of him, "I have rarely come across a player with as much talent as Claudio."

ARGENTINA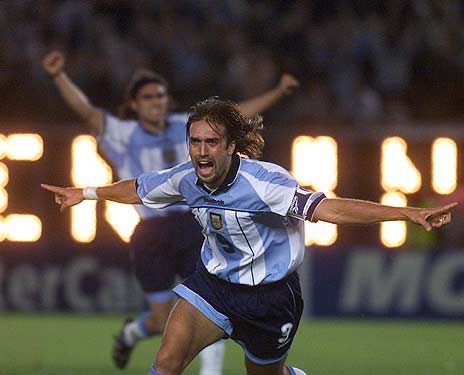 Team Profile


Argentina await acid test
The number 13 can be an indicator of good times and bad - depending on where you are in the world. So as Argentina prepare for their 13th FIFA World Cup finals appearance, coach Marcelo Bielsa must be wondering exactly what to expect from next summer's trip to Korea/Japan.


Star Player


Gabriel Batistuta
Even far from his native Argentinean shores, Gabriel Omar Batistuta or "Batigol" for short is recognised as one of the world's greatest strikers. And yet his career began surprisingly late in life. Born on 1 February, 1969, it wasn't until he reached the age of 17 that he switched from basketball to football. Yet only two years later, aged 19, he won the South American club championship the Copa Libertadores - in his very first season at Argentinean club Newell's Old Boys.

BRAZIL
Team Profile


Brazil...at last
Hallelujah! At last, Brazil's hallowed name is to grace the 2002 FIFA World Cup Korea/Japan. The FIFA World Cup record-breakers, the only team to have played in all previous tournaments and the only one to have lifted the coveted trophy four times, finally made it to the finals.


Star Player


Rivaldo
Like Pele and Ronaldo, Rivaldo had a modest upbringing, but unlike his illustrious fellow strikers, was not singled out for stardom early on in his career. After serving his apprenticeship at Paulista Recife, he signed his first professional contract with FC Santa Cruz in 1991, before moving to Mogi-Mirim, and then legendary Sao Paulo club Corinthians in 1993, where he hit the headlines by scoring 11 times in just 19 starts. Less than a year after joining Corinthians he was on the move again, this time to So Paulo rivals Palmeiras, where he won his first Brazilian championship in 1994.

ECUADOR

Team Profile


Ecuador: the history makers
Ecuador is a country of oil, emeralds and bananas. It is also a point of reference for the rest of the world, hence the equator. What it has never been, however, is a land of footballing opportunity.


Star Player


Agustn Delgado
Despite the fact that most football experts point to the maxim that "you cannot make a good footballer, it's in the genes", this has not been the case for the Ecuadorian Agustn Delgado, a notable exception to the rule.

PARAGUAY
Team Profile


Chilavert blow should not derail Paraguay
To reach consecutive FIFA World Cup finals is no small feat. For a country like Paraguay, whose population numbers less than five million, it is a big deal.


Star Player


Jose Luis Chilavert
Jos Luis Chilavert was already first choice goalkeeper for Sportivo Luqueno at the tender age of 15. He was capped for the Paraguay youth side and at 18 made his first division debut at Guarani Asuncion. The following season he packed his bags and moved to Argentinean club San Lorenzo.

URUGUAY

Team Profile


Uruguay wake up to World
The sleeping giant of South American football is about to stir. Uruguay, a nation small in size but big on soccer, is ready to return to the world stage in Korea/Japan next summer.


Star Player


Alvaro Recoba
The task of lifting Uruguay from a second-rate football nation into a contender at the 2002 FIFA World Cup finals has fallen on the shoulders of Alvaro Recoba. For Recoba is the anointed successor to the great Enzo Francescoli - and a player with magic in his left foot.

BELGIUM

Team Profile


Sixth consecutive FIFA World Cup finals
When Michel D'Hooghe retired as president of the Belgian Football Association, he handed his successor a team that was in pole position to reach the FIFA World Cup final phase for the sixth consecutive time. Alas, in their final qualifying match, the Red Devils surrendered first place in Group 6 after losing to Croatia.


Star Player


Emile Mpenza
When Emile Mpenza moved from Standard Lige to German club FC Schalke 04 early in 2000 for a record fee close to nine million euros, he was still a relative unknown outside of Belgium.

CROATIA
Team Profile


Croatia discover winning ways again
After rising to the dizzy heights during the 1998 FIFA World Cup France where they finished in an amazing third place, Croatia have since then been tumbling down the world rankings. Missing out on the UEFA European Championship 2000 Belgium/The Netherlands combined with other bad results left Croatia with just three wins in 15 matches following their 1998 success.


Star Player


Alen Boksic
Along with Davor Suker and Robert Prosinecki, Alen Boksic is one of the most successful Croatian professional footballers of recent years.

DENMARK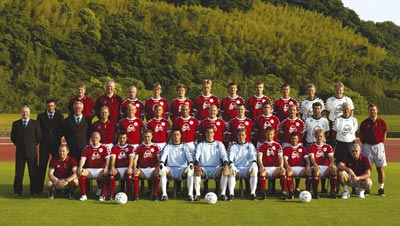 Team Profile


Led by some of Europe's elite
Denmark qualified for the FIFA World Cup finals for the third time when they thrashed Iceland 6-0 in their final 2002 FIFA World Cup Korea/Japan qualifier in October.


Star Player


Ebbe Sand
Ever since Ebbe Sand scored two hat-tricks in the Danish league in the record space of just ten days in 1997, he has been regarded as one of his country's greatest strikers.

ENGLAND


Team Profile


Still reviving the "Spirit of '66"
It should come as no surprise that the bulk of England's national team plays its club football with Manchester United and Liverpool. During the 2000-2001 season, the two clubs accounted for all of England's domestic trophies as well as the UEFA Cup, and that kind of experience has formed the core of Sven-Goran Eriksson's squad.


Star Player


Michael Owen
Twenty-two year old Michael Owen has already written his name in the football history books. In February 1998, he became the youngest player in the 20th Century to receive an England cap. Aged just 18 years and 59 days, he was three months younger than the previous record-holder, Duncan Edwards of Manchester United.

FRANCE

Team Profile


Depth and confidence mark defending champions
If France can recapture the defensive solidity that won them the 1998 FIFA World Cup France and can break forward with the devastating fluidity that saw them lift the UEFA European Championship 2000 crown, then they will be a difficult side to beat come June in the 2002 FIFA World Cup Korea/Japan.


Star Player


Zindine Zidane
Zindine Zidane learnt to play football in the backstreets of Marseilles. The son of Algerian immigrants, he was discovered by a talent-scout at 14 and signed as a schoolboy with Cannes FC.

GERMANY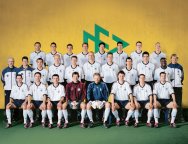 Team Profile


Germany trying to get it right again
Germany's national football team is second only to Brazil in terms of historical achievement. The Mannschaft has, however been in a state of decline for the past decade, and the team is now desperately looking for the spark that will bring them back among the world's elite.


Star Player


Oliver Kahn
Whenever football experts are called upon to pick one world-class player from Germany's ranks, the name of Oliver Kahn is the one that automatically springs to mind. The Bayern Munich goalkeeper has carved a place for himself as one of the best shot-stoppers in the world, and the epitome of consistency at the highest level for many years.

REPUBLIC OF IRELAND

Team Profile


Ireland re-emerging from the shadows
The Republic of Ireland emerged in 1987 under the tutelage of former England great Jack Charlton, who took the team to two FIFA World Cups and a UEFA European Championship in the space of six years.


Star Player


Roy Keane
The all-round midfielder that any manager would love to have, be it at club or country level. Roy Keane has boundless energy and puts every ounce of it into his fearsome ball-winning tackles.

ITALY

Team Profile


Defence again key to success
Despite less-than-convincing performances in qualifying, confidence is high in Italy that the Azzurri will be strong contenders for the 2002 FIFA World Cup Korea/Japan and follow-up on their second-place finish in the UEFA European Championship 2000.


Star Player


Paolo Maldini
The name Maldini has special significance in Italian football. Following in the footsteps of his illustrious father, Cesare Maldini, who was a star for AC Milan and Italy in the 60s before becoming national coach, Paolo Maldini is now writing football history as one of the world's greatest defenders.

POLAND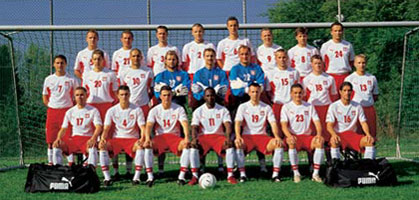 Team Profile


Success gives a feeling of heritage
It's easy to forget that Poland were once one of the best national sides in the world, beating Brazil to take third place in the 1974 FIFA World Cup Germany, finishing ahead of defending champions West Germany in 1978 and again finishing third in 1982 after defeating France.


Star Player


Tomasz Hajto
Two things have made Tomasz Hajto famous in the German Bundesliga. One is that few players can throw the ball in further than the Pole, who consistently creates havoc in the opposing penalty area. The other is that few players pick up as many yellow cards as the Schalke defender without gaining a reputation for foul play. In the 1998-9 season alone Hajto amassed 16 yellow cards, more than anyone else in the German first division.

PORTUGAL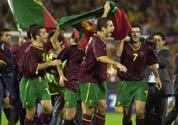 Team Profile


"Golden generation" blaze trail to FIFA World CupNever has the popular Portuguese phrase, "Third time is the right time," been so applicable to football. After twice before making it to the FIFA World Cup finals, Portugal have managed to go through to their third, the 2002 FIFA World Cup Korea/Japan, with realistic hopes of achieving new heights in the world competition.


Star Player


Luis FigoBorn in the working-class Almada district of Lisbon, Luis Figo began his career as a street footballer at Os Pastilhas, before joining Sporting Lisbon at the age of 11. He made his debut in the club's first team in 1989, at the remarkably young age of 16. That same year, Figo became a world champion as part of the Portuguese Under-16 squad, an honour he would receive again two years later in the Under-20 category.

RUSSIA

Team Profile

Building a new tradition
Since the dissolution of the Soviet Union, Russian football has had to create a new identity separate from the accomplishments of sides made up of players from several former Soviet Republics.

Star Player

Viktor Onopko
Viktor Onopko is one of the most experienced players in the Russian squad. Onopko was born in the Ukraine, but opted to play for Russia after the break-up of the CIS squad in the wake of the 1992 European Championships.


SLOVENIA

Team Profile


Slovenia continue to impress under KatanecOnce again this remarkable nation of only 2 million inhabitants, which was part of Yugoslavia until 1991, has defied the odds, this time by qualifying for the 2002 FIFA World Cup Korea/Japan.


Star Player


Zlatko ZahovicDespite the fact that he has never played club football in his home country, Zlatko Zahovic is considered a cult figure in Slovenia. The attacking midfielder is widely regarded as the man who brought glory to the tiny alpine country by leading them to qualification for the UEFA European Championship Belgium/The Netherlands 2000 and of course for the 2002 FIFA World Cup Korea/Japan.

SPAIN


Team Profile


Guarded optimism, as always"This tournament will be different!" It has been said too many times for Spaniards to take notice any longer. Spain have never competed in a FIFA World Cup final and their best finish, fourth place, came all the way back in the 1950 World Cup Brazil.


Star Player


RaulRaul Gonzalez Blanco was born in a suburb of Madrid. After winning his spurs as a member of provincial team San Cristobal de Los Angeles, his father signed him to the Athletico Madrid youth team at the age of 13.

SWEDEN

Team Profile


Strength both at home and awaySweden overcame a disappointing UEFA European Championship in 2000 by qualifying for the 2002 FIFA World Cup Korea/Japan without losing a single game. The team was given a helping hand by drawing a group devoid of any of Europe's traditional powerhouses, and the players took advantage by winning sailing through the group.


Star Player


Henrik LarssonSince the mid-1990s, Henrik Larsson has been widely recognised as one of the most dangerous strikers in Europe. Some prominent football experts even count the dark-skinned Celtic forward among the greatest ever. Dick Advocaat, coach of Celtics great rivals Rangers, compares him to Argentinean superstar Gabriel Batistuta.

TURKEY
Team Profile


Turkey ready for world stageAfter reaching their first UEFA European Championship in 1996 and making it to the quarter-final stage of the corresponding tournament in 2000, Turkey now seems set to make a mark on the world stage.


Star Player


Hakan SkrHakan Skr is by far the most popular player in Turkey - but the road to glory has been a long one. Skr first turned out for his home town side, Sakaryaspor, as a tender 16 year old. By the 1989/90 season, he was a regular in the side, and was snapped up by Bursaspor in the summer of 1990. His stay at Bursaspor was as successful as it was short-lived, for in 1992, Galatasaray, the giants from Istanbul, came knocking on his door.